Biography
Edit
George Clooney is an actor, screenwriter, producer and director, most notably known in ER (1994), Ocean's Eleven (2001), Burn After Reading (2008), and The Descendants (2011). He was born on May 6th, 1961 in Lexington, Kentucky to Nick Clooney and Nina Clooney. His father was anchorman and game show host during the late 1990s.His family was heavily involved in the entertainment business; He is related to Rosemary Clooney, a cabaret singer and actress. His cousins, Miguel and Rafael Ferrer are also Hollywood actors. He moved a lot during his early childhood years but returned back to Kentucky when he was in the seventh grade. He started out as an extra for the mini-series Centennial (1978-79). This show was filmed in his hometown and gave him a great start into the film world. In 1984 he auditioned to for his first role, E/R not to be confused for ER (hospital drama). He later moved to LA to work on The Facts of Life, Roseanne, Baby Talk, Bodies of Evidence, and Sisters.
Clooney drew attention to himself by playing the role of Dr. Doug Ross in NBC's medical drama, ER which he was on from 1994-1999. He received two Primetime Emmy Awards nominations for outstanding lead actor in a drama series in 1995 and 1996. He was also nominated for three Golden Globes for Best Actor.After he left the ER, he began working with Steven Soderbergh with Out of Sight (1998). As a producer, he won Best Picture for Argo (2012). His later work includes, Gravity (2013), The Monuments Men (2014), Tomorrowland (2015), and Money Monster (2016).
George Clooney & The Coen Brothers
Edit
The Coen brothers were impressed with his performance in Out of Sight and casted him for the role of
Ulysses Everett
in
O Brother, Where Art Thou?
(2000). He received a Golden Globe for Best Actor for that film. He has also acted in several of their films with
Intolerable cruelty
(2003),
Burn After Reading
(2008), and
Hail, Caesar!
(2016). The Coen brothers like to typecast him for the slow character. He is currently working on directing a script from the Coen brothers called Suburbicon.In an interview with
Variety
, he says he enjoys working with the Coen brothers because they are great writers and imaginative directors and they're also hilarious. He likes that their scripts are written with specific tones.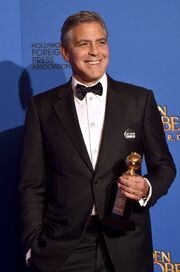 Year
Film
Role
Notes
1984–85
E/R
Mark "Ace" Kolmar
1985
Streethawk
Kevin Stark
1985–86
The Facts of Life
George Burnett
1987
Return to Horror High
Oliver
Grizzly II: The Predator
Uncredited
Combat Academy
Maj. Biff Woods
Murder, She Wrote
Kip Howard
Episode: "No Laughing Murder"
The Golden Girls
Detective Bobby Hopkins
Episode: "To Catch a Neighbor"
1988
Return of the Killer Tomatoes
Matt Stevens
1988–91
Roseanne
Booker Brooks
11 episodes
1989
Red Surf
Remar
1992
Unbecoming Age
Mac
1993
The Harvest
Lip Synching Transvestite
1993–94
Sisters
Detective James Falconer
1994–99
ER
Dr. Doug Ross
106 episodes
Nominated — Primetime Emmy Award for Outstanding Lead Actor - Drama Series, 1995, 1996
Nominated — Golden Globe Award for Best Actor – Television Series Drama, 1995, 1996, 1997
1995
Friends
Dr. Michael Mitchell
Episode: "The One with Two Parts, Part Two"
1996
From Dusk till Dawn
Seth Gecko
MTV Movie Award for Best Breakthrough Performance
Saturn Award for Best Actor
One Fine Day
Jack Taylor
Curdled
Seth Gecko
Uncredited; only photo shown
1997
Full-Tilt Boogie
Himself
Documentary
The Peacemaker
Thomas Devoe
Batman & Robin
Bruce Wayne/Batman
South Park
Sparky the Dog
Voice only; episode: "Big Gay Al's Big Gay Boat Ride"
1998
The Thin Red Line
Captain Bosche
Out of Sight
Jack Foley
Waiting for Woody
Himself
Comedic short
1999
Three Kings
Major Archie Gates
The Book That Wrote Itself
Himself
South Park: Bigger, Longer & Uncut
Doctor Gouache
Voice only
The Limey
Archive footage, uncredited
2000
The Perfect Storm
Billy 'Skip' Tyne
Fail Safe
Col. Jack Grady
2001
Ocean's Eleven
Danny Ocean
Nominated — MTV Movie Award for Best Dressed
Nominated — Phoenix Film Critics Society Award for Best Cast
Spy Kids
Devlin
2002
Confessions of a Dangerous Mind
CIA Officer Jim Byrd
Also director
Solaris
Chris Kelvin
Nominated — Saturn Award for Best Actor
Welcome to Collinwood
Jerzy
Also producer
Starbuck Holger Meins
Documentary
2003
Intolerable Cruelty
Miles Massey
Spy Kids 3-D: Game Over
Devlin
2004
Ocean's Twelve
Danny Ocean
Nominated — Broadcast Film Critics Association Award for Best Cast
2005
Good Night, and Good Luck
Fred Friendly
Golden Osella for Best Screenplay
Satellite Award for Best Original Screenplay
Nominated — Academy Award for Writing (Original Screenplay)
Nomination — BAFTA Award for Best Original Screenplay
Nominated — BAFTA Award for Best Actor in a Supporting Role
Nominated — BFCA Critics' Choice Award for Best Writer
Nominated — Chicago Film Critics Association Award for Best Original Screenplay
Nominated — Chicago Film Critics Association Award for Best Director
Nominated — Chlotrudis Award for Best Director
Nominated — Golden Globe Award for Best Screenplay
Nominated — Gotham Award for Best Cast
Nominated — Screen Actors Guild Award for Outstanding Performance by a Cast in a Motion Picture
Nominated — Washington D.C. Area Film Critics Association Award for Best Screenplay
Nominated — Writers Guild of America Award for Best Original Screenplay
Syriana
Bob Barnes
Academy Award for Best Supporting Actor
Golden Globe Award for Best Supporting Actor – Motion Picture
Nominated — BAFTA Award for Best Actor in a Supporting Role
Nominated — Broadcast Film Critics Association Award for Best Supporting Actor
Nominated — Screen Actors Guild Award for Outstanding Performance by a Male Actor in a Supporting Role
2006
The Good German
Jake Geismar
2007
Michael Clayton
Michael Clayton
National Board of Review Award for Best Actor
San Francisco Film Critics Circle Award for Best Actor
San Francisco Film Critics Circle Award for Best Screenplay
Washington D.C. Area Film Critics Association Award for Best Actor
Nominated — Academy Award for Best Actor
Nominated — BAFTA Award for Best Actor in a Leading Role
Nominated — Broadcast Film Critics Association Award for Best Actor
Nominated — Chicago Film Critics Association Award for Best Actor
Nominated — Golden Globe Award for Best Actor - Motion Picture Drama
Nominated — London Film Critics Circle Award for Best Actor
Nominated — Online Film Critics Society Award for Best Actor
Nominated — Screen Actors Guild Award for Outstanding Performance by a Male Actor in a Leading Role
Darfur Now
Himself
Ocean's Thirteen
Danny Ocean
2008
Leatherheads
Jimmy "Dodge" Connelly
Co-writer (uncredited)
Burn After Reading
Harry Pfarrer
2009
ER
Dr. Doug Ross
Final season
The Men Who Stare At Goats
Lyn Cassady
Up in the Air
Ryan Bingham
Post-production
2011
Farragut North
In development
The American
Jack
Announced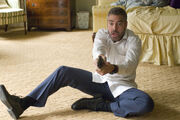 Characters portrayed by George Clooney in the Coen Brothers' Universe
Edit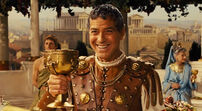 Appearances/Characters
Edit
Cite error: <ref> tags exist, but no <references/> tag was found