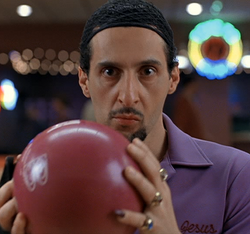 John Turturro (born February 28, 1957) is an Italian-American actor from Brooklyn, New York. He has appeared in over 60 motion pictures, including five Coen Brothers' films. He has been nominated for two Golden Globes for Best Performance by an Actor in a Limited Series in The Night Of (2016) and Motion Picture Made for Television and Best Performance by an Actor in a Supporting Role in a Motion Picture in Quiz Show (1994). He won an award for his role in Barton Fink (1991) for Best Actor at the Cannes Film Festival.
Turturro was raised into a Roman Catholic family in Queens, New York. He decided to pursue theatre arts at the State University of New York. He later received his MFA from Yale School of Drama in film art. Aside from his extensive acting career, Turturro chose to start his own production company called Humperdinck Productions. He currently serves as a judge at the New York City Film Festival.
He performed in various Spike Lee films that sparked interest within Hollywood directors. One of the many being the Coen Brothers that decided to cast him for Bernie Bernbaum in Miller's Crossing (1990). It wasn't until his extraordinary performance in Miller's Crossing (1990) that Turturro gained a title role in Coen Brothers' Barton Fink (1991). This prompted a close relationship with Ethan and Joel Coen that helped further his career by starring as a key character in many of their films.
Coen Brothers credits
Edit
External links
Edit
Community content is available under
CC-BY-SA
unless otherwise noted.